Join the ultimate stock and option forum for traders and investors. Our community provides a platform for sharing insights, discussing market trends, and learning from experienced traders or chatting with newbies. We are trying to grow the trading community so you'll have access to a wealth of knowledge and experience. Our forum covers everything from stock picks to options strategies, and our moderators ensure a respectful and informative environment. Whether you're a seasoned pro or just starting out, our forum is the perfect place to connect, learn, and succeed in the stock market. Traders looking for a convenient and reliable way to track their stock and options trades can make use of this free online forum to use as a trade journal. This user-friendly resource provides users with quick insights into their trading activity, enabling them to make more informed decisions about their portfolio. With this trading forum, traders can easily analyze the performance of individual trades and track stocks and options over time. Sign up today and elevate your trading game. And don't forget to ask for your FREE 30 day trial of our premium content at https://wstrades.com/premium/.
[Sticky]

Here is what is currently included with your paid membership.
Here is a screenshot of the entire Members Only section.
As you can see you get the Long and Short FTW indicator scan signals updated every day. What the FTW indicator is looking for is a trend in one direction in several different timeframes with several volume criteria met and some secret sauce.  😉
You also get the scan results that are looking for high volume breakouts or breakdowns through key price levels. Also updated every day.
When you click on the FTW Long, Short or High volume break daily posts you will see the scan results that triggered that day.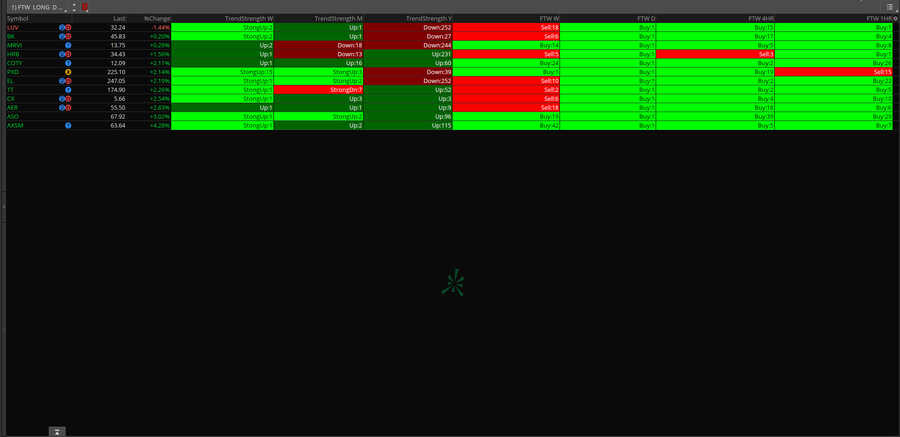 This is an image of what the post will look like.
You will see the ticker, price, percentage lost or gained as well as our Multi Timeframe Trend Strength and FTW Signals. 
The Trend Strength signals show the trend direction as well as strength (Strong Up, Up, Down and Strong Down) and the number of days since the trend changed on three different timeframes. The W is the trend that looks back a weeks worth of trading days (5). The M looks back a months worth of trading days (21). The Y looks back a years worth of trading days (253).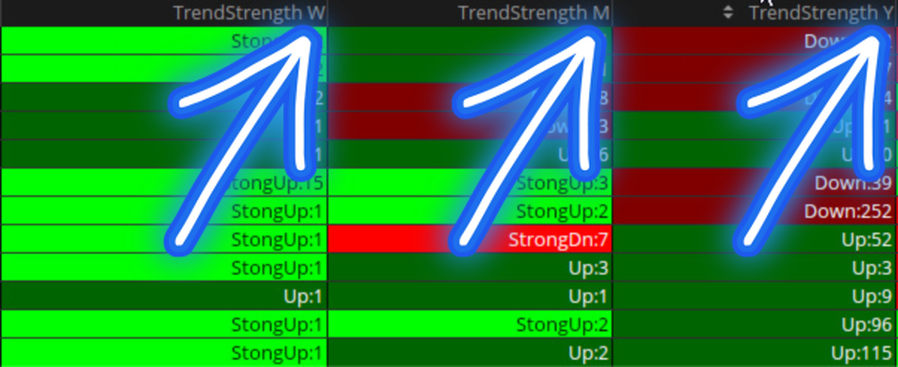 The BLUE arrows show the timeframe and the PINK arrows show the number of days that it has been in the same strength trend.
The FTW signals are similar but the number is based off bar numbers on different chart timeframes. So if the 30min FTW is showing Buy:12 and the 1H is showing Sell:1 then if I am on a 30 minute chart then I would have a LONG signal 12 bars ago and if I switch to the 1 hour chart I would have a SHORT signal 1 bar ago.
You will also get shots of price targets on the indexes at the end of each week so you can see key price levels for the week going forward.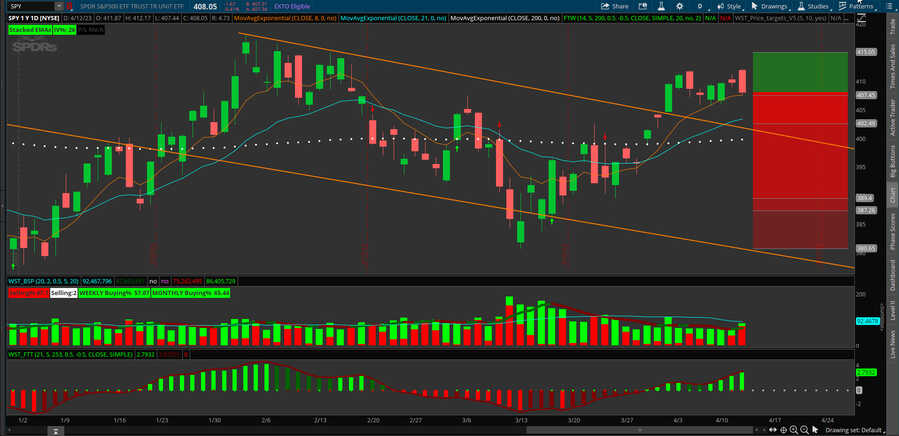 As well as any Technical analysis on tickers that catch my eye. 
You now get a weekly podcast every Friday! 

If you have any questions please reply below.
These are not buy or sell signals. They are heads up to optional moves. Nothing in trading is guaranteed! Trade safe. Check out https://wstrades.com/disclaimer/
Thank you, Larry! Do the dark green and dark red in the chart mean something different from their lighter counterparts (light green and light red)?